Teacher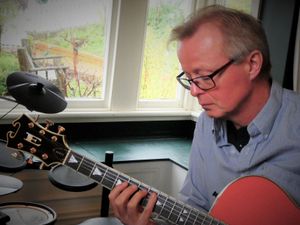 Operating from the Kaikorai Valley, the Dunedin School of Music has been in existence since December 2016. However, my private teaching began in in Arrowtown in 2007. Since then, with the support of my family, I have put in many hours to develop and improve.
It has taken a great deal of time to fuse my vision and education to create a comprehensive learning experience.
My dedication and passion to the improvement of my student's playing has come with the reward of seeing people overcome difficulties of the instrument and sound great. To see people succeed is a real buzz. My students come because they want to. They are getting something out of it.
The professional development of my teaching has seen the creation of twenty four hour online access to songs learned in lessons; physical (in Kaikorai Valley), and Skype lessons with students learning from anywhere; and jam sessions which again can be in my office or online. My 10 years of school teaching experience has been developed with the reality of the student setting the pace of the learning. If improvement is being made the pace is not important.
I am experiencing the knowledge of what it takes to become a strong player and the rewards it finally brings. I have played with many people in many settings: from original bands, classic hits professionals; stage shows; two big band jazz orchestras; and jazz/blues combos. I have played instrumental solo gigs, and recorded often.
However music fits into someones life; from hobby to professional, a good start and ongoing support is essential. This has been my plan from the beginning. I appreciate the trust placed in me from my long term students. Young or old, they are becoming awesome players. When they have been involved in opportunities in their community they have been recognised as strong and well trained musicians.
Learning music is a long term endeavour. It can be a lifelong passion. It is a specialist skill. The methods used to develop as a musician can be applied to anything one wants to become awesome at. Essentially it is learning how to learn.
Some more information about me...
Since 2007 I have been committed to providing people with the highest quality tuition on Guitar, Bass and Drums. My ongoing musical development, starting in 2001, is guided by tutors involved with the top New Zealand music institutions and are considered to be world class. 
Ten years of full time primary teaching was a valuable experience. In addtion I gained an interest in I.C.T. I realized I could enhance my music teaching  with a web site which would complement my music teaching, be available to all students, and be a place where my students can meet and jam together. I called the site The Golden Pick & Sticks.
For the last 18 months or so of my primary teaching career I experienced more and more people coming to me in the evenings and at weekends for music lessons. I could see my dream of teaching and playing music was about to begin. I admit I was 'shaking pretty hard" when in October 2007 I left my mainstream teaching job to go solo. And despite initial worries about heading out on my own, I've never looked back. Ever since I have had a steady stream of students - from-seven-year-old kids to middle-aged budding rockers – visit my studio to learn how to play guitar, drums and bass.
Even more information about me... 
I began playing music at an early age and toured New Zealand as drummer with The Jonahs, who were popular on the capital's rock scene. But it wasn't until I started to take guitar lessons at the age of 30 that my musical future started to take shape. I'd been self taught, or wondering in the wilderness I prefer to say, on guitar and drums for almost 20 years. I had a great time with all the bands I was in, but I wasn't really getting anywhere.
I'd picked up a lot of bad playing habits and I couldn't read music, which was a major problem. But as soon as I started taking lessons it opened up my world. To this day I still get regular tuition. I probably always will. I'd just like to thank Kevin Downing for his on going support and knowledge. I get a great deal of pleasure out of seeing my students make music. My own experience has taught me how beneficial it is to have a teacher.
Writer
Writing music is a good thing to do. It's also a hard thing to do. I try to make sure there is some song being formed albeit slowly. The first song of mine recorded was when I was with the Jonahs. The album was never released however. My time with Carl McRae under the name Dizrhythmia was the first time when an album of our music was released. We recorded in Dunedin, and had our work completed by Chris Ward. Then he was a starving audio engineer, now he is with Peter Jackson.
All of a sudden nothing happened...
Early family life took over. Everyone was busy. So I started to record solo. It was a development of my skills in all areas of music. "I just didn't want to stop playing when the bands stopped and the families took over. I wanted to get better.
Clicking here will take you to my published music. I believe your music should grow. As you grow as a player and musician so should your songs. This mini album, Today,  is my latest work.
Flying Nun, Beatles, Bowie, R.E.M, Tom Petty, Staightjacket Fits, Jonahs, Jean Paul Satre Experience, with a few guitar licks from T Bone Walker, Alvin Lee, Robin Trower and BB King thrown in, could describe my music. It could also have an awakening of my heritage which you only start to feel when your beginning to mature in years: an English Kiwi tinge. Classic English bands mixed with bands heard in Wellington in the late '80s early 90s, before Bodega, when the Clarendon was king.
Player
Dunedin City Jazz Orchestra 
Since February 2017 I have been playing guitar for this national treasure of a band. 
We play a jazz standard format with guitar and voice. Jodi Benson, also from the DCJO, sings and I'm on guitar. Please Listen...
Solo, Instrumental
Within my set I have attempted to include a number of sources which have given me the inspiration to keep on playing. These influences come from American and English Blues, Rock, Jazz, Chord Melodies, and Folk. Please Listen...

Phil is my first drumming teacher. "I couldn't play before, but now I can, thanks to his great teaching! I have improved 100%. I really like the way Phil encourages me with my drumming. I love playing his electronic kits. I look forward to every lesson. I love playing and learning new songs. I like how kind and encouraging he is when I make a mistake."
Daniel Thompson

Phil Hartshorn is a great guitar teacher. He's friendly, funny and encouraging!!!
He is also very good at making people understand the situation. So don't worry about thinking that your kid comes home and tells you "I don't know what Phil was talking about". Because that won't happen.
Hugh Rudd

If you are considering taking lessons with Phil but are not sure yet, can I say give it a go, no matter which method you use. After starting with face to face lessons, I was surprised how efficient the internet based lessons are and the ability to log in from anywhere you have a connection and device is great. Phil is a patient and proficient teacher and his methods provide challenge and reward as you master your chosen instrument.
Micheal Morgan